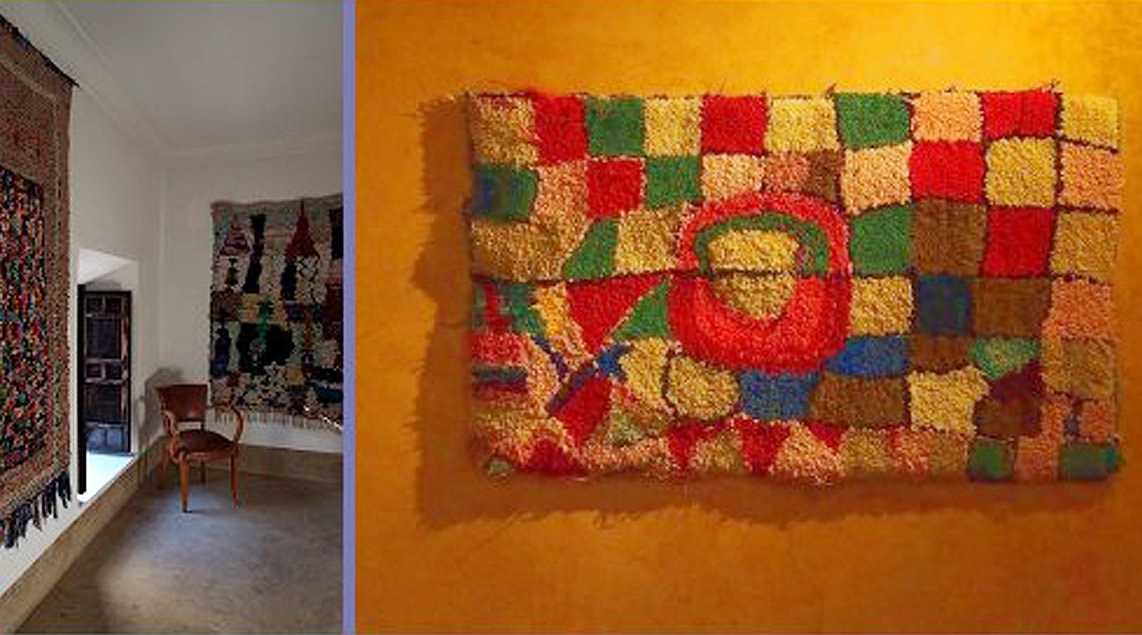 A new Boucharaouite carpet museum!
To discover: the Boucharaouite carpet museum
This new carpet museum enriches the offer of places in Marrakech that you will be eager to discover. Housed in a charming riad, and devoted to popular arts, this carpet museum has some antiques, a beautiful collection of iconography by Mohamed V. It reveals in particular a superb collection of boucharouite carpets (carpet made of recycled clothing put in rebus) and Zindekh (embroidered carpets made on a frame of synthetic cereal bags).
For several years the owner had bought from Bazaar experts some of the most remarkable pieces to present in Europe. The idea of a Carpet Museum came unexpectedly, when he was considering selling his riad. It is passionately, and with great taste, that he has changed the function of his house, while retaining the spirit of a home.
Popular crafts honored
These rugs are often considered a minor craft; the exploration of this amazing museum reveals, on the contrary, the unsuspected talent of unknown artists nestled in the High Atlas. The scenography, the proximity to contemporary paintings, highlight the astonishing modernity of all these works.
To discover absolutely!
The Boucharouite Museum is located at 107, derb el cadi (good signage) in Azbest.
From the place of Spices (Rahba Khedima) go back to the north; at the Berber market (fruits and vegetables) instead of turning left towards the Ben Youssef Madrasa, turn right; then take the second derb on the right, opposite the Azbest Mosque.
Admission 40 Dhs (free for children under 16)
Open from 9.30am to 6pm. Closed Sunday and August.
Tea room with snack.
0524 38 38 87 – museeboucharouite@gmail.com