Our partners
Durand Catering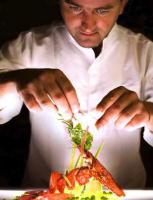 Among the privileged partners of Marrakesh Private Resort, Durand Traiteur is Normand, and having helped to strengthen the reputation of several prestigious gastronomic establishments such as Ferme Saint-Siméon in Honfleur, he makes his arms in Paris with the best of the culinary arts. French, like Joël Robuchon and Alain Ducasse. Then he flies to Lebanon to open Le Balthus, an excellent French restaurant.
Privileged partners passionate about Moroccan culture
Then, in Marbella, he becomes the cook of the Prince of Qatar. His love of cooking and Morocco pushed him to Ouarzazate where he seized the opportunity to learn pastry alongside Pierre Hermé.
It is in 2002 that he arrives at Ksar Char Bagh, Relais and Châteaux of Marrakech to set up their gastronomic restaurant.
After having created in 2004 "La table des Chefs du Maroc" an association of chefs de cuisine gourmet, he decided in September 2006 to create his brand of catering service.