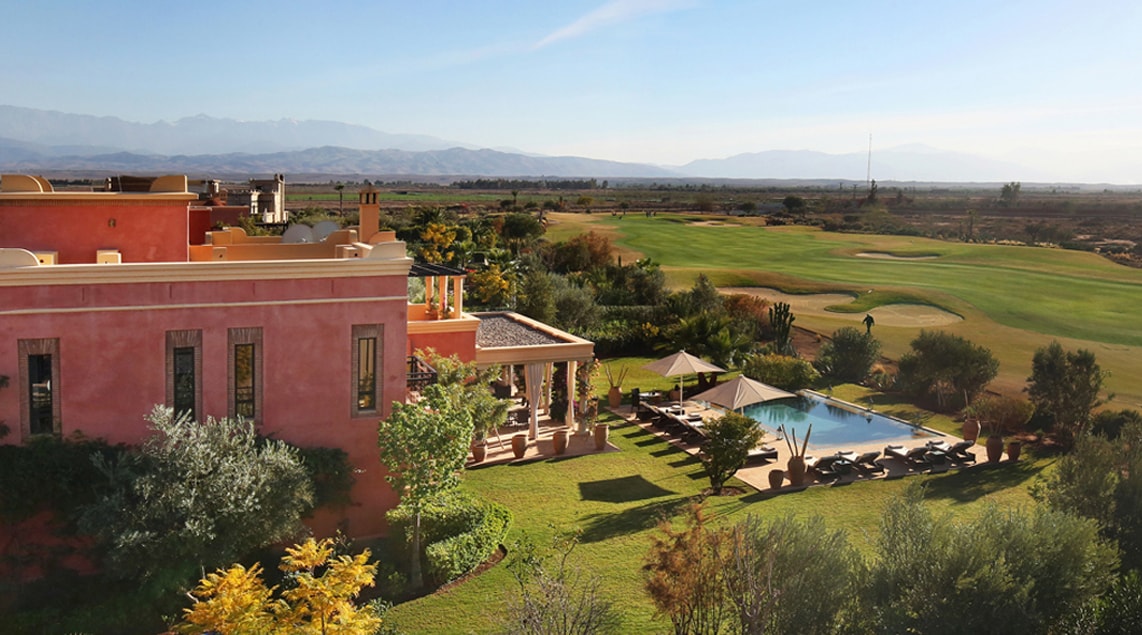 Want a golf stay in Marrakech? Discover golf villa rentals!
You want to enjoy a golf holiday with friends or family in Marrakech ? Come discover 12 golf courses organized according to your expectations. To fully appreciate your stay, we take care of the booking of your green fees, your caddies and all the logistics.
For Golf Pros, we offer you to organize your personalized stays with your customers and to make every effort to be a complete success.
Discover our golf villas in Marrakech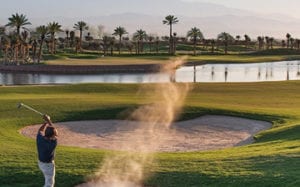 For all your golf trips, 7 villas are available in Marrakech. You can enjoy a moment with friends or family while being on hand to practice your passion.
The villas are located on private and secured golf courses of Samanah, Royal Palm and Amelkis.
Come and enjoy without further delay a golf stay in both summer and winter in Marrakech. What a pleasure to practice your passion all year!
We also offer golf pros to take care of all the organization and logistics of stays for their clients.
Opt for golf course packages including airport transfers to the golf of your choice, half board, 1 hour massage and booking your equipment … Our optimal service guarantees you a smooth stay.
Like many golf pros, invite your students to Marrakech, the golf capital of the world.
Do not hesitate to contact us to book your sumptuous villa on Golf.
Discover a selection of golf stays
Marrakech, recognized as the paradise of the golf will fill all the enthusiasts. 12 golf courses with very different course styles, both in terms of their landscapes and their design, as well as their difficulties!
ROYAL PALM GOLF CLUB
The Royal Palm Golf combines both luxury and sustainable development is counted among the most beautiful golf courses in Marrakech. Its spectacular garden is a real showcase of local flora: olives, oleander and hibiscus.
ASSOUFID GOLF CLUB
Assoufid Golf Club dotted with palm trees, cacti and olive trees is one of the most prestigious golf courses in Morocco. This 18-hole course offers courses adapted to all levels of play.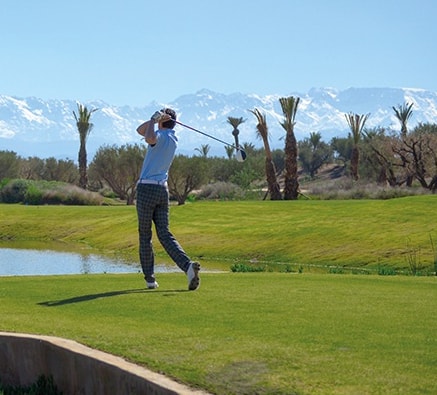 SAMANAH COUNTRY CLUB
The golf Samanah spread over 300 ha offers breathtaking views of the Atlas. The choice of plants, plants and the realization of Samanah were thought of in a "desert" spirit.
PALMGOLF OURIKA
The golf Palm Golf Ourika is known for its quiet and relaxing course surrounded by olive trees and palm trees. Designed and designed in a desert style, PalmGolf is a paradise for golfers.
NORIA GOLF
The Noria Golf has two very varied courses in terms of vegetation and difficulties. Its original architecture is a real golf experience for players.
ATLAS GOLF MARRAKECH
This 9-hole course will take you to the heart of southern Moroccan atmospheres, warmth, sun, shade and freshness. Inspired by Japanese gardens and its waterfalls and streams, the Atlas golf will seduce strategy lovers.
ROYAL GOLF DE MARRAKECH
The Royal Golf de Marrakech located at the foot of the Altlas consists of 18 historic holes traveled by players from around the world since 1933.
AMELKIS GOLF CLUB
The golf Amelkis offers a spectacular course with difficulties and technicalities with traps and pitfalls.
AL MAADEN GOLF RESORT
Al Maaden Golf extends over 72 hectares with fabulous woodland decorations alternating plains and reliefs. This natural space adapts to all levels of play.
PALMERAIE GOLF CLUB MARRAKECH
The Golf de la Palmeraie extended on more than 77 hectares combining aesthetic success and technical prowess to the unique panorama.